Save 10% on your next order
of $99 or more by joining our email list.
Join Today >
Home

/

AG Industries
Generic Outlet Bacteria Filter (10 Pack)
BY AG Industries
Item #DSP1079
---
Order ships today if placed by 4PM CST
Product
Overview
When you use a CPAP machine, you're exposing yourself to dust, pollen, germs, and bacteria that can be found in the room you're sleeping in. While most CPAP machines use filters that are designed to reduce many of the irritants lurking in the ambient air, sometimes they need an extra layer of protection. That's where bacteria filters can help!
Bacteria filters are designed to add an extra layer of protection to your CPAP setup and work by filtering out irritants that your regular CPAP filter misses. They're a great addition to your CPAP therapy regimen.
Features & Benefits:
May Reduce the Likelihood of Illness
Breathe Only the Best Possible Air
Traps Microscopic Germs, Mold, and Irritants Your Regular Filter Misses
Compatible With Most CPAP Machines— Clips Onto Your Hose!
Disposable Bacteria Filter Designed to be Used Until Discolored
May Reduce Likelihood of Illness
Bacteria filters are designed to remove particles from your air that can make you sick, such as germs, bacteria, and mold. While it's no guarantee that you'll be able to prevent infection, having an added layer of defense can only help.
Breathe Only the Best Possible Air
Fall asleep breathing nothing but clean air! The bacteria filter is able to eliminate the irritants that your regular filter misses, giving you the absolute cleanest air possible. If you have allergies, you'll really appreciate how clean your air can be. Please Note: If you live in a high smoke environment, a bacteria filter will not be enough protection. For best results, do not smoke indoors.
Designed for Use Until the Filter Looks Discolored
The Generic Bacteria Filter is disposable and meant to be used until it looks discolored. The product featured here is for 10 Generic Bacteria Filters.
Compatible With Most CPAP Machines— Clips Onto Your Hose!
The Generic Bacteria Filter is compatible with most CPAP machines and clips onto your hose. Certain hoses are not compatible:
ClimateLineAir™ Heated Tube for AirSense™ 10 and AirCurve™ 10 Machines
PR System One Heated Tube for 60 Series Auto CPAP Machine
ClimateLine™ Tubing for S9™ and H5i™ Climate Control System
Thermosmart Heated Hose for 600 Series CPAPs
AirMini™ AutoSet 15mm Hose
DreamStation Go 12mm Micro Tubing
This is because these hose brands, in particular, have ends that are non-standard and can't fit with the Generic Bacteria Filter. For more on machine and hose compatibility, please check the Important Tips tab.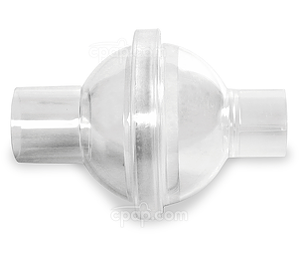 Generic Outlet Bacteria Filter (10 Pack)