Take 15% off
your order of $200+ by subscribing!
Join Today!
Home

/

Bedding

/

Gravity Blankets
25 lb Gravity Blanket: Weighted Blanket
BY Gravity Blankets
Item #GRVR01-0025
---
Order ships today if placed by 4PM CST
25 lb Gravity Blanket
Overview
Awarded the "Top-Rated Weighted Blanket in 2019" from Mattress Advisor and the world's most popular weighted blanket, The Gravity Blanket evenly distributes light weights across your body to calm your nervous system and improve your quality of sleep. Designed to mimic the feeling of a hug, it features an ultra-soft and luxurious premium micro-fleece duvet cover to keep you warm, comfortable, and relaxed all night long.
Gravity Blanket Benefits:
Helpful for Autism, ADHD, Anxiety, Chronic Pain, and Insomnia
Evenly Distributed Weight for Maximum Relief
Machine Washable Cover Separates from Inner Weighted Blanket for Easy Cleaning
100% Cotton with No Latex and Won't Trigger Allergies
Gravity Blanket Size and Weight Chart
Choosing the right weight for you isn't about how relaxed you want to be—we promise you'll get that even at the lightest weight. Weighted blankets are most beneficial at roughly 10% of your body weight. Follow the information below to find the right weight for you.
Helpful for Autism, ADHD, Anxiety, Chronic Pain, and Insomnia
Gravity blankets are useful for many chronic conditions. The deep touch pressure stimulation of the weighted blanket helps to encourage the production of serotonin and melatonin. Tuck yourself in with the Gravity Blanket and get ready for a great night of sleep.
Evenly Distributed Weight for Maximum Relief
Thanks to careful gridded stitching, the weighted glass beads are uniformly distributed, providing an even dispersal of weight. To reduce bunching and pooling, Gravity Blanket includes two different types of internal clasps within the duvet cover (ties and elastic-button connectors) to ensure the inner weighted blanket remains secure inside the duvet cover.
Duvet Cover is Machine Washable for Easy Cleaning
Just like a traditional duvet cover, you can easily detach the Gravity Blanket cover from the inner weighted piece and toss it in the washing machine. Once fully dry, you can reattach and enjoy a night of restful sleep. Please note: The inner, weighted blanket is hand-wash-only and air dry.
Allergen-Free
The Gravity Blanket is created without the use of synthetic fibers or latex. Thanks to the natural hypoallergenic fabric, it won't bother your sensitive allergies or skin.
What's Included:
PVC Bag

Blanket

3 Printed Inserts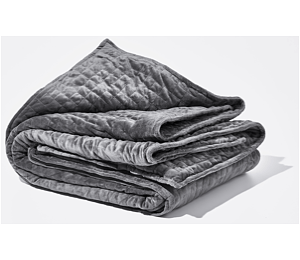 25 lb Gravity Blanket: Weighted Blanket
---