Home

/

Travel

/

H2Doze
H2Doze Premium Distilled Water for CPAP Humidifiers - 6 Pack (16.9oz Travel Bottles)
BY H2Doze
Item #6677400043
---
Order ships today if placed by 4PM CST
H2Doze Travel Distilled Water - 6 Pack
Overview
Do you travel frequently and take your CPAP and humidifier with you? If so, you've probably had to take along a big, bulky jug of distilled water or depended on finding it somewhere at your destination.
With the H2Doze Distilled Water 6 Pack, you can keep bottles on hand to throw in your luggage on your way out the door and have the confidence that your CPAP will be ready to go when you arrive.
Most CPAP humidifiers require the use of distilled water to operate correctly and avoid the mineral buildup that can harm the device. A bottle of H2Doze Distilled Water can be a lifesaver if thrown in your luggage, helping ensure that you have access to distilled water away from home.
Each bottle is 16.9 oz, making it enough for two nights of humidifier use on most CPAPs. They are also labeled as medically necessary, helping get through TSA inside a carry-on bag.
Need just a single bottle? You can buy an individual bottle here: H2Doze Single Bottle.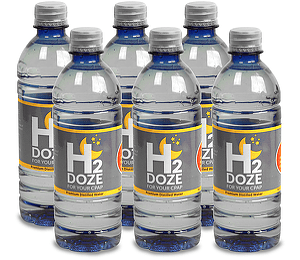 H2Doze Premium Distilled Water for CPAP...
---