Take 15% off
your order of $200+ by subscribing!
Join Today!
Home

/

InnoMed/RespCare
Nasal Aire II Prong CPAP Mask with Headgear
BY InnoMed/RespCare
Item #K2A
---
Prescription required
Free Returns
Order ships today if placed by 4PM CST
Need replacement parts & accessories?
Shop Now
Nasal Aire II Prong Mask
Overview
The Nasal Aire II Prong CPAP Mask with Headgear by Innomed includes multiple sizes of nasal prongs to accommodate various sizing needs. The mask can be worn in configurations with or without the included headgear.
The Nasal Aire II Prong CPAP Mask is the All Size Kit and includes 6 sizes of nasal prongs XL, LG, MP, MD, SM, XS inside of the package.

Nasal Aire II is Innomed's new interface device designed for patients requiring positive ventilation therapy. Its sleek design allows the user freedom to speak, eat, drink, and wear eyeglasses without removing the device. When the device is worn by the patient, the under nose reservoir is positioned across the patient's upper lip with the nasal inserts positioned in patient's nares. The tubing drapes easily over the patient's ears in the manner of standard nasal cannula, thus stabilizing the under nose reservoir with the "Y" coupling positioned in front of patient, eliminating the need for uncomfortable straps and headgear.

Advantages:

-Can be worn for any duration without discomfort (no uncomfortable pressure points on face).

-User can sleep in any position.

-Virtually leak free. Does not chill the nose.

-Promotes unprecedented patient compliance.

-Built-in swivel.

-Easy to assemble and clean.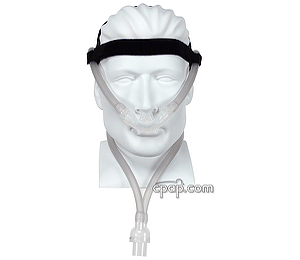 Nasal Aire II Prong CPAP Mask with Headg...
---