Home

/

Medistrom
Medistrom Pilot-24 Lite CPAP Battery Adapter for Dreamstation Go & Luna
BY Medistrom
Item #P24PDGPLK
---
Order ships today if placed by 4PM CST
Need replacement parts & accessories?
Shop Now
The Medistrom Pilot-24 Lite comes from CPAP.com with connections for the AirMini and AirSense 10, but doesn't have the attachments for the DreamStation Go and Luna CPAP Machines. You'll need the DreamStation Go / Luna Battery Adapter Kit to make the connection to the following machines:
This kit also contains a power supply for the Medistrom Pilot-24 Lite.
In the Box:
DC Output Cable for Philips Respironics DreamStation Go
DC Output Cable for 3B Medical Luna
Medistrom AC Power Adapter for Pilot-24 Lite
The DreamStation Go / Luna Kit for the Medistrom Pilot-24 Lite is designed to work with the Pilot-24 Lite, and won't work with any other battery, including the Medistrom Pilot-12 Lite. The Pilot-24 Lite is not universally compatible with other machines than what's listed here.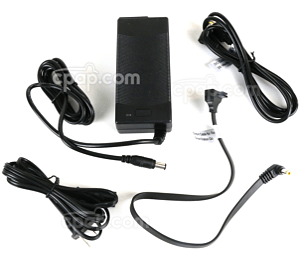 Medistrom Pilot-24 Lite CPAP Battery Ada...