Home

/

ResMed
Mirage™ FX Nasal CPAP Mask Assembly Kit
---
Order ships today if placed by 4PM CST
Need replacement parts & accessories?
Shop Now
This is the Mirage™ FX nasal mask frame with one size cushion. This product does not include the headgear which can be purchased separately: Headgear for Mirage™ FX Nasal CPAP Mask.
Featuring the dual wall Spring Air™ cushion, the aim of the Mirage™ FX is to reduce pressure points on the face. The air exhalation ports provide a gentle air stream that is quiet and less likely to cause discomfort to the one using the mask or a bed partner.
Reducing the number of parts, ResMed has made the Mirage™ FX ResMed easy to use and clean. The squeeze-tab elbow snaps on and off without using clips. The butterfly wing forehead support flexes to the best position.
Also available, the Mirage™ FX for Her Nasal CPAP Mask is packaged with smaller headgear. It comes in two sizes, small and standard. The size small frame and cushion are not compatable with other sizes of the Mirage™ FX.
If interested in purchasing the headgear separately visit Headgear for Mirage™ FX Nasal CPAP Mask. Or, purchase the entire mask system including headgear, by visiting Mirage™ FX Nasal CPAP Mask with Headgear.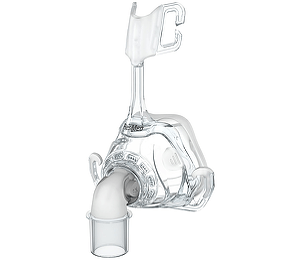 Mirage™ FX Nasal CPAP Mask Assembly Kit
---