Home

/

ResMed
Mirage Quattro™ Full Face CPAP Mask Assembly Kit
---
Order ships today if placed by 4PM CST
Need replacement parts & accessories?
Shop Now
Mirage Quattro Assembly Kit
Overview
The ResMed Mirage Quattro™ Full Face CPAP Mask Assembly Kit is the mask only, and does not include the headgear. Mask assembly kits are a way to refresh your mask without having to purchase the full mask.
The Mirage Quattro Full Face Mask is an innovative design that features an advanced seal that adjusts for a better fit. The new MicroFit dial allows the mask forehead support to be adapted to the user. This mask delivers therapy air to both the nose and mouth.
This is the Mirage Quattro™ Full Face CPAP Mask Assembly Kit is the ResMed Quattro Full Face mask WITHOUT the headgear. This is a full face mask and covers both the nose and mouth, delivering air flow to both.
Users may lose pressure directly from the mouth when therapy pressures are high. This occurs more commonly with BiPAP treatment. Additionally, it may happen when using a nasal mask if there are air leaks from the mouth. The resulting loss in pressure may bring about flu-like characteristics, inadequate sleep therapy, and disrupted sleep. The Mirage Quattro full face mask covers both the nose and mouth, preventing pressure loss from mouth breathing thereby improving both your comfort and your sleep therapy.
The ResMed Mirage Quattro Full Face Mask is a great solution when there is frequent nasal congestion. Or, it is useful to have on hand in case of a cold or have bothersome allergies.
Dual Cushion designed for an advanced seal that will conform to your face with movement.

Refined Air Vent lowers noise by over 50%.

Four Sizes available Extra Small, Small, Medium, and Large.

Cushion Membrane at the chin to support jaw movement.

Reduced Mask Parts for quick and easy cleaning.

MicroFit Dial allows CPAP users to find the right fit using 24 small incremental adjustments. The dual-wall cushion and forehead move in tandem as the dial is turned. This design is intended to address difficultly with "first time" fittings and ensure that is it not necessary to over tighten the mask's headgear.

Headgear Quick Clips allows for fast and convenient removal of the mask without the need to re-adjust the headgear.

This package DOES NOT include Headgear. Headgear can be purchased separately Headgear for the Mirage Quattro™or along with the fitpack Mirage Quattro™ Full Face CPAP Mask with Headgear.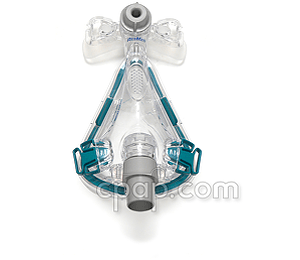 Mirage Quattro™ Full Face CPAP Mask Asse...
---