Save 20% today
and gain access to all future offers!
Sign Up & Save >
Home

/

Philips Respironics
Nasal Cushion for Wisp CPAP Mask
BY Philips Respironics
Item #1094086
---
Order ships today if placed by 4PM CST
Need replacement parts & accessories?
Shop Now
Product
Overview
Do you replace this item frequently? Join our auto-supply subscription to save time AND money!

This is the replacement, silicone nasal cushion for use with the Wisp Nasal CPAP Mask.
The cushion is available in four sizes. Select size of cushion at the time of ordering.
Petite
Small/Medium
Large
Extra Large
Sizing Assistance: The manufacturer offers the following information to assist in selecting the correct size cushion for the Wisp. Measure from the outside of the nose from one side to the other. Do not measure only the nares or nasal openings, but the entire width of the nose.
P = Approx 1 1/8 in
S/M = Approx 1 1/2 in
L = Approx 1 7/8 in
XL = Approx 2 1/4 in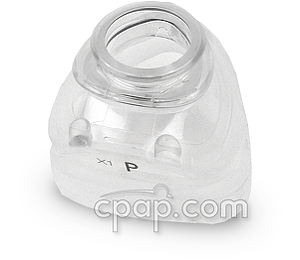 Nasal Cushion for Wisp CPAP Mask