Home

/

NeilMed
NasaFlo® Neti Pot
BY NeilMed
Item #NFCB-0R-48-ENU-US
---
Order ships today if placed by 4PM CST
NetiPot by NeilMed
Overview
If you breathe through the nose and get sick, the congestion in the nose can be difficult to deal with. While it's recommended to switch to a full face mask when you come down with a cold, you may prefer to try breathing through the nose.
If that's the case, you'll need some way to clear out your sinuses and relieve some of the congestion. The way to do this is by using the NeilMed NasaFlo NetiPot.
The NetiPot works by running a gentle mixture of sodium chloride and sodium bicarbonate through the nasal passages, clearing out the congestion so it's possible to return to breathing through the nose.
The kit includes the following items:
1 Disposable NetiPot (Re-Usable for up to 3 Months)
50 Packets of Sodium Bicarbonate Mix
Educational Brochure
Directions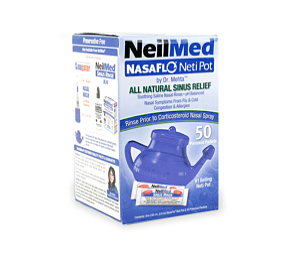 NasaFlo® Neti Pot
---