Save 20% today
and gain access to all future offers!
Sign Up & Save >
Home

/

NeilMed
NeilMed Sinus Rinse Regular Kit
BY NeilMed
Item #K-ENU-US
---
Order ships today if placed by 4PM CST
Sinus Rinse provides natural relief from allergies and sinus symptoms. The premixed packets of USP Grade Sodium Chloride and Sodium Bicarbonate (99.9% Pure Salt and Baking Soda) are pH balanced for maximum comfort and precisely measured to mix with 8 oz (240ml) of lukewarm distilled water. There is no guess work in preparation. Use the easy-squeeze bottle to apply an entire single dose in an upright position.
Developed by Dr. Mehta, Sinus Rinse relieves nasal allergies, dryness, sinus pressure, Cold and Flu nasal symptoms, irritation, post nasal drip and congestion. The patented premix works to sooth and moisturize. Use Sinus Rinse for immediate relief or as a preventative treatment.
Advantages
Soothing, No Burning or Stinging
Single piece custom design cap
Preservative, Iodine and Latex Free
Smooth flow with easy-squeeze bottle
Empties 100% in upright position
Great to use after sinus surgery and CPAP Users
Safe during pregnancy
Portable for travel
90 Day Money Back Guarantee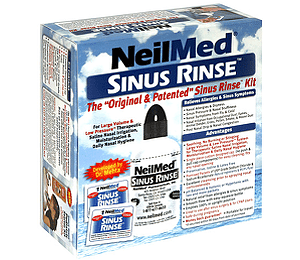 NeilMed Sinus Rinse Regular Kit