Take 15% off
your order of $200+ by subscribing!
Join Today!
Home

/

Pad A Cheek
Pad A Cheek CPAP Forehead Pads (2 Pack)
BY Pad A Cheek
Item #105-FBBFL-00-NAVY-BLUE
---
Order ships today if placed by 4PM CST
Pad A Cheek CPAP Forehead Pads
Overview
Pad A Cheek Forehead Pads reduce irritation and red marks that may be caused by the forehead piece of a CPAP mask and headgear buckles. This is a set of two Pad A Cheek Pads.
Pad A Cheek Forehead or Buckle Pads are made from two layers of soft, breathable polyester micro fleece. Each pad easily slides into place over the mask's forehead piece. In addition to cushioning the forehead support, the Pad A Cheek Pad can be used to cushion contact with headgear buckles.
These pads are intended for traditional mask designs that feature a forehead bar or forehead support, such as the:
The pads are approximately 4" long and 2" wide. Two forehead pads are included in a package as well as one denser micro-fiber insert which can be added for extra padding. The dense pad may be either blue or black.
Style B is made to fit most masks.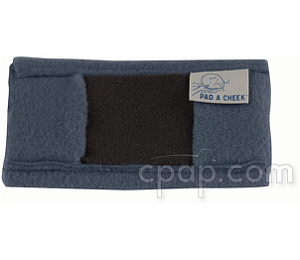 Pad A Cheek CPAP Forehead Pads (2 Pack)
---