Save 20% today
and gain access to all future offers!
Sign Up & Save >
Home

/

Headgear

/

Philips Respironics
Headgear for Pico Nasal CPAP Mask
BY Philips Respironics
Item #1104934
---
Order ships today if placed by 4PM CST
The Headgear for Pico Nasal CPAP Mask is designed for use with the Pico Nasal CPAP Mask with Headgear.
The purchase of Headgear for the Pico Nasal CPAP Mask only includes headgear. The mask and headgear clips are not included with this purchase.
Sizing Information
There are two sizes of headgear available with the Pico Nasal CPAP Mask. All sizes of the Pico come packaged with the size Standard headgear.
Adjustable Headgear
The Pico headgear features Velcro tabs for quick and easy adjustments to obtain the best seal possible. A crown strap on the back of the headgear helps stabilize the mask and reduce pressure points.
Minimal Design
The continuous design of the headgear is intended to offer comfortable and manageable support. Thread the two top straps through the center of the headgear bar and adjust the fit to create a strong seal around the nose. Do the same near the chin. Pull to secure the bottom straps through the headgear clips. The simplistic design eliminates bulky materials and rough surfaces that may disrupt the sleep cycle.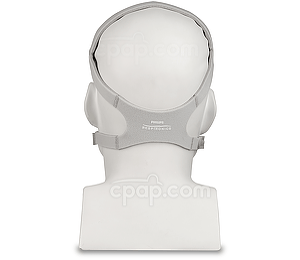 Headgear for Pico Nasal CPAP Mask