Home

/

Philips Respironics
DreamStation Humidifier Dry Box Assembly (Seal Not Included)
BY Philips Respironics
Item #1120668
---
Order ships today if placed by 4PM CST
DreamStation Humidif Box Assembly
Overview
Philips Respironics' DreamStation Humidifier Dry Box Assembly is the replacement assembly used to prevent water damage to the DreamStation Heated Humidifier.
Please Note: This is for the dry box assembly only and does not include the inlet seal. If interested in purchasing the inlet seal, it must be purchased separately. The seal can be found here.
Dry Box technology is used on PR humidifier systems to protect the device from potential water leakage. In the instance that water may seep or spill from the water chamber into the unit, the dry box is designed to capture the water to keep it from spreading throughout the humidifier and CPAP therapy device.
The Dry Box Assembly has an inlet seal located on the interior of the humidifier as well as a smaller seal located on the exterior of the unit where the machine and humidifier meet. Please Note: Only the interior, inlet seal is intended to be replaced. If the seal on the exterior of the humidifier assembly is damaged, a new assembly must be purchased.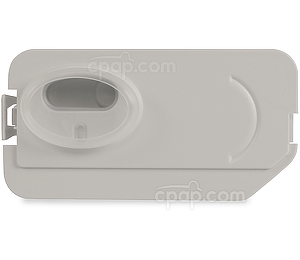 DreamStation Humidifier Dry Box Assembly...
---