Home

/

Cleaning

/

Choice One Medical
Purdoux Travel CPAP Mask Wipes with Unscented Aloe Vera - 12 Pack
BY Choice One Medical
Item #CLW12
---
Order ships today if placed by 4PM CST
CPAP Travel Mask Wipes (Aloe Vera)
Overview
Cleaning your CPAP equipment is an important part of staying healthy, even when you're on the go. The PURDOUX Travel CPAP Mask Wipes with Aloe Vera come in a 12 pack of travel-sized pouches you can easily pack for your next adventure. Though the photograph shows the wipes individually, this item is a box of 12 travel-sized pouches of 10 wipes each.
Each wipe is 100% cotton and contains no harsh chemicals, alcohol, or solvents. Designed to be gentle on your hands and skin, the wipes use soothing aloe vera to help moisturize while cleaning. Regular cleaning can help keep your CPAP equipment sanitized, reducing germs, and helping decrease the likelihood of infections.
Also Available from Purdoux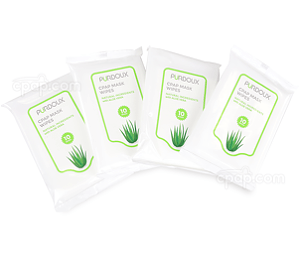 Purdoux Travel CPAP Mask Wipes with Unsc...
---