Home

/

ResMed
AirMini™ Mask Setup Pack with HumidX F20 for AirFit/AirTouch F20 Masks
---
Order ships today if placed by 4PM CST
AirMini Mask Setup with HumidX for F20
Overview
The AirMini™ Mask Setup Pack with HumidX F20 for AirFit/AirTouch F20 Masks includes an AirMini hose, F20 connector, and F20 HumidX in order to use an Airfit or AirTouch F20 mask with the AirMini Travel CPAP Machine.
The AirMini™ Mask Setup Pack for AirFit™ F20 Full Face CPAP Mask is the unique hose needed to connect the Airfit™ F20 or AirTouch™ F20 to the AirMini™ Travel CPAP Machine from ResMed. This version also includes the HumidX F20 which provides waterless humidification.
This mask setup pack includes the AirMini™ hose and the F20 elbow for use with the AirMini™ machine, and one HumidX F20. Existing users of an F20 mask can use this setup pack to connect the mask to the AirMini™ machine by removing the existing elbow and using the elbow included with this kit in its place.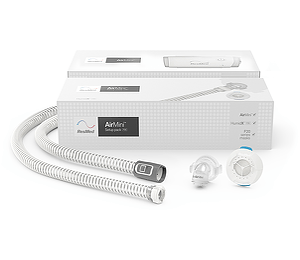 AirMini™ Mask Setup Pack with HumidX F20...
---