Take 15% off
your order of $200+ by subscribing!
Join Today!
Home

/

ResMed
HumidX™ Plus for AirMini™ Travel CPAP Machine (3 Pack)
---
Order ships today if placed by 4PM CST
AirMini HumidX Plus (3 Pack) by ResMed
Overview
The HumidX is a waterless humidification system for the AirMini AutoSet Travel CPAP Machine and works by trapping the humidity from your breath and reusing it in a way that keeps your throat and sinuses from drying out. It provides the moisture you'll need without needing a traditional humidifier. It's less messy, and less to worry about when you're getting ready for your next adventure.
Each HumidX is good for 30 days of use. Don't run out! By purchasing this 3-pack, you'll be providing yourself with 3 months of comfort—without worrying about missing a day of therapy!
The HumidX is designed to work with the AirFit™ N20 and AirFit™ P10 masks for the AirMini, and cannot be used with any other machine or mask. The Standard HumidX featured here is for normal or humid climates that don't require extra humidification. For dry climates, you'll need to try the HumidX Plus Waterless Humidification System.
Features & Benefits
Small Enough to Fit Anywhere
Needs No Distilled Water
Not Bulky or Messy
Compatible With the AirFit™ N20 and the AirFit™ P10
One Cartridge Lasts 30 Days
Small Enough to Fit Almost Anywhere
Wherever your travels take you, you'll be able to bring your HumidX with you. These slim cartridges are designed to fit into a special slot on the short tube of the AirMini version of the AirFit™ N20 and the AirFit™ P10 masks. Each cartridge is small enough that it could easily fit inside of your pocket, and you should only need to bring one with you for most trips.
Needs No Distilled Water
When you're on the road, trying to find distilled water for your humidifier can be a pain. Travel-sized bottles can be really expensive, and gallons of distilled water can be difficult to travel with. The HumidX eliminates the need to have distilled water on hand and doesn't require any power or batteries to work. Just install it in the short tube of a compatible mask and breathe. That's all you need to do!
Not Bulky or Messy
If you've ever forgotten to empty your humidifier chamber before packing up your machine, you know the mess it can create, potentially damaging your machine in the process. With the HumidX, you won't need to worry about making room for your humidifier in your luggage as it's not bulky or messy, and it's designed to work with one of the most portable CPAP machines in the world.
Compatible With the AirFit™ N20 and the AirFit™ P10
It's important to remember that the HumidX is only compatible with the AirMini versions of these masks, and isn't available for use with any other mask or machine. If you buy an AirFit™ P10 or N20 for use with another machine, the HumidX will not be compatible—it's designed to work with only the AirMini and its family of masks. Please Note: The AirFit™ F20, AirTouch™ F20, and the AirFit™ F30 will not work with the HumidX despite being compatible with the AirMini.
Don't Run Out! One Cartridge Lasts 30 Days
One HumidX cartridge is good for 30 nights of use. They're not widely available in stores. A night without humidification can mean a dry throat and painful sinuses, so stock up now, and don't risk running out. Want to get a 6 month supply? See the six-pack of HumidX here!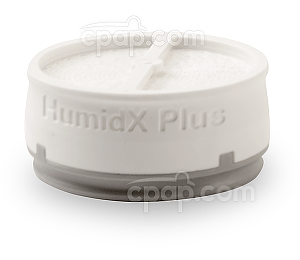 HumidX™ Plus for AirMini™ Travel CPAP Ma...
---