Home

/

ResMed
ResMed AirMini™ Mask Connector
---
Order ships today if placed by 4PM CST
Need replacement parts & accessories?
Shop Now
AirMini™ Mask Connector for AirFit Masks
Overview
This product serves as the replacement elbow connector designed to connect the ResMed AirMini and its slim tubing to the following masks: the ResMed P10, ResMed F20, and the ResMed N20. Customers can select the correct connector from a drop down menu on this page.
The connector elbows on this page are the replacement parts needed to replace a cracked or broken connector elbow from a damaged or broken original.
Because the ResMed AirMini uses a slim tube that has a smaller diameter than standard CPAP tubes, connecting to a standard AirMini compatible mask requires a special adapter to make the connection between the slim tube and the standard mask.
The ResMed P10, ResMed N20, and ResMed F20 all have different connector elbow designs that are specific to each mask family. For example, the ResMed P10 AirMini Connector Elbow is not compatible with an F20 series of mask and vice versa.
PLEASE NOTE: The connector elbows listed on this page contain the connector elbows ONLY and are not the complete mask or the AirMini AutoSet. For the ResMed AirFit P10, the ResMed AirFit N20, ResMed AirTouch F20, or the ResMed AirFit F20, please click on the product name for more info. This link will take you to the AirMini AutoSet Travel CPAP Machine.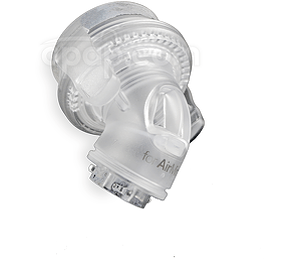 ResMed AirMini™ Mask Connector
---