Home

/

Headgear

/

ResMed
Headgear for AirFit™ F10 Full Face Mask
---
Order ships today if placed by 4PM CST
Product
Overview
Do you replace this item frequently? Join our auto-supply subscription to save time AND money!

The Headgear for AirFit F10 Full Face Mask is the replacement full face headgear. Select the desired size at the time of ordering.
The Headgear for AirFit F10 Full Face Mask is compatible ONLY with the following ResMed masks:
Regarding AirFit™ Headgear Sizing and Color:
Both the AirFit™ F10 and the AirFit™ F10 For Her come packaged with a headgear labeled as size "Standard". However, the two standard headgear are NOT the same size.
AirFit™ F10 comes packaged with and Standard headgear featuring blue accents.
AirFit™ F10 For Her comes packaged with Standard headgear featuring pink accents.
The PINK size "Standard" headgear is the SAME SIZE as the BLUE size "Small" headgear.
The AirFit F10 headgear is designed with a curve to hug the back of the head and support the mask fit and seal and the headgear does not lay flat.
See the Specs Tab of this product page for measurement information.
Please Note: This is a single headgear for use with the ResMed AirFit F10 full face mask in the selected size. This product does not include any other mask parts. The Headgear for AirFit F10 Full Face Mask works only with the masks listed above. It is not compatible with any other masks manufactured by ResMed or any other manufacturer.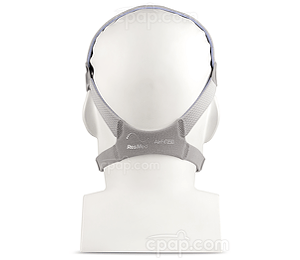 Headgear for AirFit™ F10 Full Face Mask