Home

/

ResMed
AirMini™ HumidX™ for AirFit/AirTouch F20 (6 Pack)
---
Order ships today if placed by 4PM CST
AirMini HumidX F20 (6 Pack) ResMed
Overview
The HumidX™ F20 (6 Pack) is a package of six waterless humidification units for use with the AirFit or AirTouch F20 masks and the AirMini travel machine.
The HumidX F20 provides the comfort of moisturized air during therapy by capturing heat and moisture from exhaled breath. The comfort of a humidifier, without the need for water or a dedicated heating element.
This product is compatible with the AirMini and AirFit/AirTouch F20 Masks only, it is not compatible with any other masks or machines.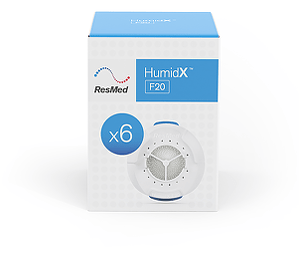 AirMini™ HumidX™ for AirFit/AirTouch F20...
---