Home

/

ResMed
External Battery for ResMed Mobi Portable Oxygen Concentrator
---
Item # 35052
Not Currently In Stock
ResMed Mobi External Battery
Overview
Affected by the power outages in California? We're here to help. Give us a call to help make sure you can continue therapy.
This product is not currently available for expedited shipping within the continental U.S. Regular ground shipping will be the only option. Other options may be available for non-continental U.S. residents.
The External Battery for ResMed Mobi Portable Oxygen Concentrator is an optional external battery that can be paired with the Mobi's internal battery to provide extended battery life and run time. The External battery provides approximately the following run times:
Setting 1: 4.5 Hours
Setting 2: 3 Hours
Setting 3: 1.9 Hours
Setting 4: 1.6 Hours
Run times will vary based on several factors including elevation.
FAA Approved for In-Flight Use
Take your ResMed Mobi with you when you travel to your next destination—whether around the corner or around the world! The ResMed Mobi is FAA approved for in-flight use, and can keep your therapy going when you travel.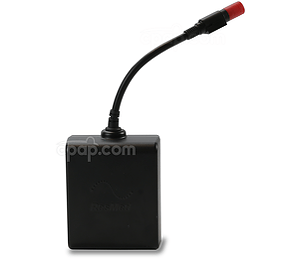 External Battery for ResMed Mobi Portabl...
---