Take 15% off
your order of $200+ by subscribing!
Join Today!
Home

/

ResMed
External 90 Watt Power Supply for ResMed S9™ Series CPAP and BiPAP Machines
---
Order ships today if placed by 4PM CST
Need replacement parts & accessories?
Shop Now
90 Watt Power Supply ResMed S9
Overview
This is the external power supply for use with the ResMed S9 Series CPAP and BIPAP machines.
The power cord which plugs into the wall outlet is included with this product.
If you are in need of only the cord that plugs in between the wall socket and the power transformer, please order here; Power Cord for Resmed S8 & S9, Machines.
This is a 90 Watt AC power supply and cannot be used in a DC configuration. The DC compatible cord can be ordered here: DC Converter 24V/90W For S9™ Machines.
Power Supply Change: In 2013 ResMed changed the design of the power supply for the S9 machines. The newer version is smaller and lighter. Both use the same power cord, and either can be used with the S9 machines.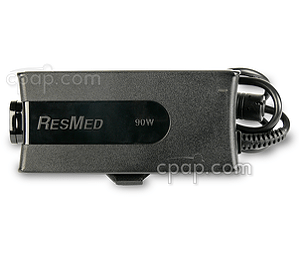 External 90 Watt Power Supply for ResMed...
---