Home

/

Headgear

/

ResMed
Headgear Assembly and Bella Headgear Loops for Swift™ FX Nasal Pillow Mask
---
Order ships today if placed by 4PM CST
Need replacement parts & accessories?
Shop Now
Product
Overview
Do you replace this item frequently? Join our auto-supply subscription to save time AND money!

This product includes both headgear assemblies as packaged with the Swift™ FX Bella Nasal Pillow CPAP Mask with Headgears.
Included:
Two Bella loops
Two buckles to attach Bella loops to the mask pillows
Four soft sleeves used with the Bella loops, in selected color
Swift FX Silicone Headgear Assembly
Two soft straps used with Headgear Assembly, in selected color
The Headgear and Bella Loops Combo for Swift™ FX fits the following mask systems: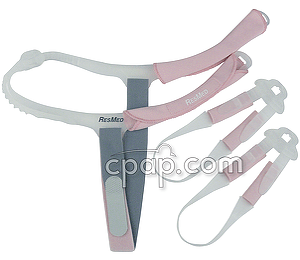 Headgear Assembly and Bella Headgear Loo...