Take 15% off
your order of $200+ by subscribing!
Join Today!
Home

/

InnoMed/RespCare
Bravo II Nasal Pillow CPAP Mask with Headgear
BY InnoMed/RespCare
Item #BRV700
---
Prescription required
Free Returns
Order ships today if placed by 4PM CST
Need replacement parts & accessories?
Shop Now
Bravo II Nasal Pillow
Overview
The Bravo II Nasal Pillow Mask has been redesigned to promote better patient comfort and allow for multiple sleep positions. With its close fitting reservoir and improved headgear, this lightweight CPAP mask can be worn over the head or on the chest. The headgear will not interfere with wearing glasses and allows for a clear field of vision.
The Bravo II contains all the components required to properly size the patient, eliminating the hassle of purchasing multiple products to get the right fit.
Sleek design with ultra quiet operation

Multiple wearing options to match your sleeping style

Patient can wear glasses

Limited points of contact on face and no air leaks near eyes

Easy to put on and take off

No forehead/overhead contact

Interchangeable nasal pillows

100% latex free
Improved Headgear
The Bravo II can be worn in multiple configurations. The system can sit over the head or the tubing can hang down, over your chest. The Active-Swivel technology lets users strategically place the Y-shaped tubing to accommodate any sleep position. Rotate the mask reservoir to set the nasal pillows at the ideal angle for a better, more comfortable seal.
Nasal Pillows
Respcare continues the versatility of interchangeable nasal pillows. Each mask comes with a set of small, medium and large pillows that can be separated to mix and match individual nares. If you require a small for one side and a medium pillow for the other naris, the Bravo II can accommodate.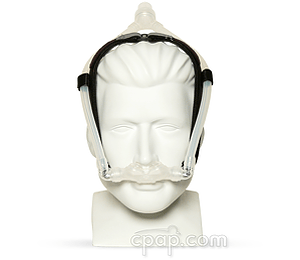 Bravo II Nasal Pillow CPAP Mask with Hea...
---
Compare Similar Products