Home

/

ResMed
External 30 Watt Power Supply for ResMed S9™ Machines
---
Order ships today if placed by 4PM CST
External 30 Watt Power Supply S9 Machine
Overview
This is the 30 Watt external power supply for use with the ResMed S9 Series CPAP and BIPAP machines when used WITHOUT the humidifier.
This product includes four (4) different adapters to plug into the wall outlet to work in the United States and abroad. Select the appropriate plug for your location. This power supply is smaller and lighter than the 90 Watt version used to power both the machine and humidifier.
This 30 Watt AC power supply and cannot be used in a DC configuration. The DC compatible cord can be ordered here: DC Converter 24V/90W For S9™ Machines.
PLEASE NOTE: DO NOT USE THIS POWER SUPPLY WHEN USING A HUMIDIFIER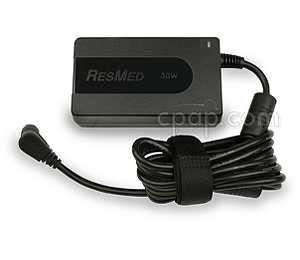 External 30 Watt Power Supply for ResMed...
---