Take 15% off
your order of $200+ by subscribing!
Join Today!
Home

/

SnuggleHose
SnuggleHose Cover Blue (For 8 Foot Hose)
BY SnuggleHose
Item #B-4-MediumBlue-8-Foot
---
Order ships today if placed by 4PM CST
SnuggleHose Cover Blue for 8ft Hose
Overview
The SnuggleHose Cover Blue (For 8 Foot Hose) is designed to fit an 8 foot long CPAP hose. SnuggleHose is a tube of very soft polyester fleece material which slides over a CPAP hose and fastens with hook and loop closures. There are three benefits to the use of a SnuggleHose:
For anyone using a heated humidifier, the SnuggleHose insulates the hose from the cooler ambient room air, reducing condensation within the hose.


The SnuggleHose keeps the CPAP hose from disrupting sleep when it contacts skin.


The SnuggleHose reduces the "medical" look of your CPAP hose.
COLOR NOTE:
The shade of the color of the SnuggleHose may vary. This does not affect the performance of the product.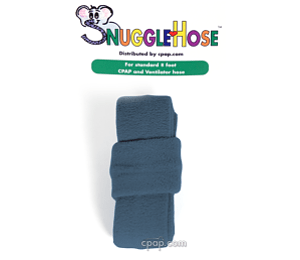 SnuggleHose Cover Blue (For 8 Foot Hose)
---