Home

/

SnuggleHose
SnuggleScents Holiday Memories
BY SnuggleHose
Item #ss-holiday
---
Order ships today if placed by 4PM CST
Holiday Memories Aromatherapy
Overview
SnuggleScents Holiday Memories will remind you of peaceful nights next to the fireplace, sipping eggnog and help open your sinuses from the common winter colds. Each package comes with one 5ml bottle of Nutmeg, Cinnamon, and Peppermint.
Dream sprinkling nutmeg into a steaming mug of eggnog or the smell of cinnamon cookies fresh from the oven or open your sinuses with the refreshing small of peppermint. This assortment of all natural essential oils will remind you of the winter cold nights, snuggled around the fireplace. Place a couple of drops of essential oil on the elephant shaped diffuser pad, then place on the wooden stand in front of the air intake on your machine.
Included in package:
One Wooden Diffuser Tray Stand
Three Disposable Elephant Oil Pads
Three Zip Lock Storage Bags
One 5ml bottle of each Essential oil: Nutmeg, Cinnamon, and Peppermint.
Nutmeg.
Typically known as a food spice, Nutmeg has an underlying sweet, nutty aroma that produces a warm "awakening" sensation. Use Nutmeg when you are fatigued or need a calming fragrance. Fall asleep knowing you will awake to a feeling of renewed comfort, focus and energy.
Cinnamon.
Cinnamon is a spicy aroma with a sweet earthy smell that soothes the spirit and promotes relaxation. Use this oil to promote a healthy immune system or when digestion is a problem.
Peppermint.
Naturally mentholated, peppermint has an anti-inflammatory effect that soothes nasal passageways. The powerful menthol aroma is perfect for CPAP users who struggle with asthma, soar throats, congestion, headaches and colds.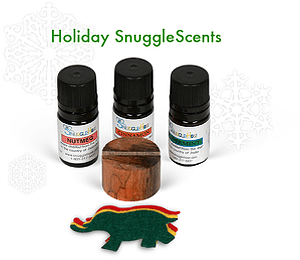 SnuggleScents Holiday Memories
---