Home

/

Headgear

/

Airway Management
Headgear for TAP PAP Nasal Pillow Mask
BY Airway Management
Item #PAP-NP1-300
---
Item # PAP-NP1-300
Not Currently In Stock
The OPTIONAL headgear is not a requirement for use of the TAP PAP Nasal Pillow mask. The mask can be used without the headgear.
The Headgear for TAP PAP Nasal Pillow Mask is for use with the TAP PAP Nasal Pillow CPAP Mask with Improved Stability Mouthpiece and the TAP PAP Nasal Pillow CPAP Mask with Stability Mouthpiece.
The two headgear straps attach to the TAP PAP using the slots on the frame below the pillows. The loop at the top of the headgear can be used to secure the short hose of the TAP PAP. The positions of the headgear strap position are designed to provide additional stability.
This product is the headgear only. This headgear is for use only with the TAP PAP systems, it is not compatible with any other mask products.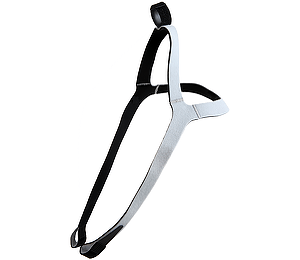 Headgear for TAP PAP Nasal Pillow Mask
---