Home

/

HoseBuddy Systems LLC
Travel HoseBuddy Tangle Free CPAP Hose Suspension System
BY HoseBuddy Systems LLC
Item #travelhosebuddy
---
Order ships today if placed by 4PM CST
Travel HoseBuddy Suspension System
Overview
The Travel HoseBuddy Tangle Free CPAP Hose Suspension System from HoseBuddy Systems LLC fits between the mattress and box spring to lift the CPAP hose over the user as they sleep. Based on the original HoseBuddy design, the travel version is lightweight at 1.6 lbs, and comes with its own travel case. Unpack the three-piece kit and assemble in seconds.
Features
Swivel Arm
Functionality
Condensation
Swivel Arm
The steel arm of the HoseBuddy swivels in a 360 degree motion to allow for optimum movement throughout the night. This feature is designed to prevent hose interference during sleep.
Functionality
The Travel HoseBuddy is very easy to use. Once the pieces are installed, place the HoseBuddy between the mattress and the box spring for functional assistance. To install the fully adjustable HoseBuddy, follow these steps:
Insert the stand under the mattress
Attach the hose to the holder
Adjust the height up to 30 inches
Condensation
If you have problems with water condensation in your hose or mask, the HoseBuddy CPAP Hose Holder can provide the clearest path of resistance so that moisture cannot collect.
Looking for the original HoseBuddy? Click here: HoseBuddy Tangle Free CPAP Hose Suspension System.
If using a very tall mattress consider the HoseBuddy Plus Tangle Free CPAP Hose Suspension System which extends to 45 inches in height.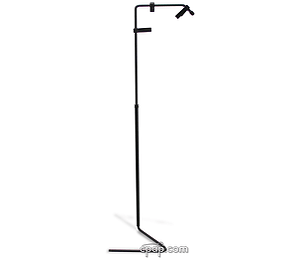 Travel HoseBuddy Tangle Free CPAP Hose S...
---