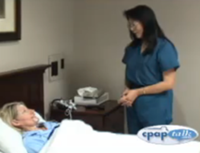 Sleep Studies
To prepare you for your sleep study, CPAP.com has created an Introduction to the Sleep Lab video. To watch this video, click the "Videos" tab below. We recommend you view this video prior to your sleep lab visit.

Your doctor referred you to a sleep lab to be able to diagnose and treat your sleep problems. A sleep lab looks like a normal bedroom, but it is equipped with instruments to measure your breathing and movements. During your sleep study, a sleep technician will gather necessary information from a separate room. This is to provide you with comfort and privacy. While in the sleep study, monitors will be affixed to your face and your legs. The monitors are not uncomfortable and are essential to diagnose sleep apnea and other sleep related issues. The results of the test will make up your polysomnogram. Please Note: During the night, or in a separate study, your sleep tech will bring you a CPAP mask to help improve your sleep. Pressure will be increased gradually as you need more air to open your passageway.
Sleep Study FAQs
Sleep Study Video
More Videos
CPAP Users Say
CPAPtalk.com CPAP User Discussions
Did You Know?, Sleep Study
Treating Sleep Apnea can have a positive affect on cardiovascular health.
Improvements of Type II Diabetes symptoms have been found in some patients once they begin treating their Sleep Apnea with CPAP therapy.
Oximeters can detect the oxygen saturation in your blood, which is also a good indicator of how your therapy is going.
CPAPtalk.com is home to over 40,000 CPAP users who are happy to share their stories and help you find a solution to your CPAP trouble.
Sleep Study Articles
CPAP.com Newsletters