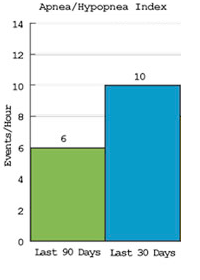 CPAP Software
CPAP software allows you to track your therapy progress and performance over time. Data capable machines will allow you to use CPAP software to spot issues and get hard data to measure the performance of sleep therapy. When speaking with your physician, the data reports may provide insight on necessary changes as well as factors that are improving your therapy.
Shop Now
CPAP Software FAQs
Data capable machines track your therapy progress and performance over time. Therapy data can be used to spot issues and used to see how changes to your CPAP setup effects your overall treatment. You and your doctor can use the therapy information to make changes in your setup. Some changes might include altering the mask or fit or increasing or decreasing your pressure to see if your therapy performance improves to ensure you are getting effective treatment.

The data capable machines not only let you know how many hours the machine was used, like pure compliance tracking machines, but also tracks advanced information such as AHI, leak rate, and average pressure (if using an APAP).

Depending on the machine, the information can be reviewed or accessed

On Machine Screen Display. Machines that display advanced tracking using the on machine display allow for fast review of therapy metrics. Many people like to use the on screen display to check every morning. Information such as AHI and leak rate for the previous night are displayed allowing the user to make adjustments such as mask fit. The information provided on the on machine screen is usually average values over different time frames, such as 1 day (last night), 7 night, 30 nights, etc.
SmartCode. SmartCode is a code that is accessed through the machine's display. This code is then inputted into the machine's product page on CPAP.com and a summary report is generated. You can see a Sample Report here. An example of an on machine display with the SmartCode is shown below. The only machine with advanced data capable SmartCode is the IntelliPAP AutoAdjust. The SmartCode provides therapy data averages for the following time frames: 1 day (last night), 7 day, 30 day, 90 day, and cumulative. This is like the information provided from the on screen display, however the information is displayed in chart format instead of a single number at a time.
Optional External Software. Some machines have external software that can be used to download the data from the machine for detailed analysis. External software, unlike the on machine display or the SmartCode, allows you and your doctor to access any night of use. Further, the information for any given night can be analyzed hour by hour. This allows you and your doctor to look for patterns in your data through the night; for instance, do you tend to have more apneas in the early morning? Or do you begin to breathe with your mouth open in the middle of the night? Some external software is available for sale to patients, other software is only sold by the manufacturer to sleep professionals. External software may require other components to be able to get the information from the machine onto you computer with the software installed.

Compliance tracking machines only track the numbers of hours the machine is used. These machines do not track any advanced information such as AHI or leak rate.

Compliance machines are basic machines which the manufacturers made to be able to track usage hours. Compliance tracking machines are a manufacturer response to Medicare requirements that mandate DME (Durable Medical Equipment) providers show the Medicare patient used the equipment for the required minimum number of hours set by Medicare. DME providers cannot continue to be paid by Medicare without this information.

There is one billing code for all CPAP and APAP machines. Therefore a DME will be paid the same from Medicare or insurance whether they provide a patient with a more expensive machine that is data capable with more comfort features or a basic compliance tracking machine. Therefore, compliance tracking machines are the most common type of machine that is provided to patients through local DMEs.

There is software created to show the compliance information from the machine, however CPAP.com does not recommend purchasing this software. This data will only tell you how many hours you actually used the machine. It will not tell you how effective your therapy is.
CPAP machines which record full data (such as AHI and leak info):
AutoPAP ("Autotitrating CPAP" or "APAP") machines which record full data:

BiLevel ("BiPAP") machines which record full data:

CPAP Machines that only record compliance data (hours used) are:
Software data can be interpreted by your physician or clinician. There are also many websites and search engines available to help you research the sleep apnea related terms which will provide more knowledge in managing your own CPAP therapy. Visit CPAPtalk.com, our free sleep apnea forum, which is a great resource for CPAP users who want to understand their condition and take control of their health.
When a physician orders a pressure change, or a patient moves to an area with a very different altitude and does not have an altitude compensating machine, there are a number of ways to ensure you are receiving CPAP therapy at the correct pressure.

Sleep laboratories and sleep disorder centers may be willing to make this pressure change. Just call a local hospital or ask your physician to recommend a sleep lab. Be sure to take your prescription.

A second way is to do it yourself. We sell manometers that are very portable, accurate, and simple to use. All the machines we sell come with instructions on how to set pressure to physician orders. Most patients have little trouble doing this themselves. If you need help we can talk you through the procedure. Contact us by phone at 1-800-356-5221.

Gauge Manometer (for pressure measurements)

Fisher and Paykel Water Column CPAP Manometer with HC325 Chamber

A third option is to ship the machine to us with the new prescription. We will set it and ship it back.

It is the law and good common sense to run all sleep disorder devices at the prescribed pressure. If you think your prescribed pressure is wrong, talk to your physician.
An APAP (Automatic Positive Airway Pressure) machine automatically adjusts on a Breath by Breath basis to blow the Minimum Pressure needed to keep your airway open during sleep. This allows your machine to provide you with your ideal pressure nightly.

APAPs tend to be more advanced than CPAPs in that they normally offer more therapy tracking information and more comfort features.

Every APAP machine can be placed in a CPAP mode to blow one straight pressure like a CPAP. However, CPAP machines cannot automatically adjust pressure like an APAP. This DeVilbiss IntelliPAP AutoAdjust is an example of an APAP machine that comes with built-in Smart Code therapy tracking software.


Here are some of our available APAP Machines:

DreamStation Auto CPAP Machine
Z1 Auto Travel CPAP Machine
XT Auto CPAP Machine
+ See More

Apnea Hypopnea Index is the number of apneas and hypopneas per hour. This index, as well as oxygen saturation levels (O2 Sat), is used to determine how severe a case of sleep apnea a patient has.

To determine AHI add the total number of apnea events, plus hypopnea events and divide by the total number of minutes of actual sleep time, then multiply by 60.

Example:

Apnea + Hypopnea divided by actual sleep time, then multiply by 60

200 Apneas, 200 Hypopnea (400 Total Events)

420 Minutes Actual Sleep time (7 hours x 60 minutes)

Divide 400 by 420 =.95 x 60 = 57 AHI (Severe OSA)

The Severity of OSAHS as defined by the American Academy of Sleep Medicine Task Force (1999) is:

<5 per hour = Normal
5 - 15 per hour = Mild
15 - 30 per hour = Moderate
> 30 per hour = Severe
A hypopnea is a decrease in airflow by at least 50% for ten seconds or more, with a 3% desaturation of blood oxygen level.
BR Arousal Index is the number of breathing related arousals (apnea, hypopnea, snoring, and other Respiratory Event-Related Arousals) divided by the # hours of sleep.
There are two types of software available: compliance software and advanced software.

Compliance software provides data such as patient hours, total machine operating hours, pressure setting, and pressure relief information. Advance software includes compliance data, as well as more detailed data such as AHI (Apnea/Hypopnea Index), leakage, average pressure, and a graphical representation of data.

Compliance software is available with some standard CPAP machines. Advanced software is available with most top of the line CPAP machines, APAP machines, and BiLevel machines.
CPAP software allows for the downloading of information from certain CPAP machines. Information on breathing, pressure levels delivered, apneas, etc. is available to help determine the effectiveness of CPAP therapy. Software is not required to operate a CPAP machine. CPAP software provides more data than the information obtained through the on-screen display or SmartCode. Also, the software allows you and your doctor to view any night of recorded data by revealing results on an hour by hour basis.

Some CPAP manufacturers maintain a proprietary software package that is only compatible with their machines.

Here is a list of each manufacturer and the name of its related full data software available:
The IntelliPAP AutoAdjust generates advanced user data. The IntelliPAP Standard only generates basic compliance information. See the image below for a complete breakdown of the reports available for each type of IntelliPAP. See a Sample Report.


This is a list of report topics generated when using SmartCode to track therapy effectiveness on the DeVilbiss Intellipap Machines.

Usage Threshold: Determines the minimum amount of time that the patient must use the device, in order to be logged as compliant. Device settings allow for 4 or 5 hours, with 4 hours being the default setting. This setting can be changed in the device clinical set-up menu.

Adherence Score: Shows the maximum adherence achieved for any period of thirty consecutive days of use within a ninety-day time frame. The score represents the percentage of days, within thirty consecutive days, when usage met or exceeded the 'Usage Threshold.' The Adherence Score reports the 'best' consecutive thirty days of usage. For example, if the 'best' 30 out of the last 90 days show 22 days used above the usage threshold and 8 days below the threshold, then the Adherence Score would show 73% (22/30). For this calculation, the usage must be continuous hours and longer than the Usage Threshold.

Days at Least X Hours: Shows the number of days in the timeframe where the total usage within each day is at least X hours. "X" represents the 'Usage Threshold' setting in the patient's device. For this calculation, all usage within a 24-hour period is recorded.

% Days at Least X Hours: Shows the percentage of days in the timeframe when the total usage within each day is at least X hours. The "X" represents the 'Usage Threshold' setting in the patient's device. For this calculation, all usage within a 24-hour period is recorded.

Day Count: Shows a count of days for each timeframe. If, for example, the 90-day code is collected at day 45 of therapy, then the "Day Count" for this code will be 45 days. In most cases, however, the day count is equal to the days in the code's timeframe(s).

While Breathing Hours: While breathing hours are only available within the last-day timeframe and with the cumulative code. This measurement shows the total hours of use.

95th Percentile Pressure: AutoAdjust pressure was at or below this pressure 95-percent of the time it was in use.

90th Percentile Pressure: AutoAdjust pressure was at or below this pressure 90-percent of the time it was in use.

AHI: Apnea/Hypopnea Index (AHI) represents the average number of apneas and hypopneas per hour for the timeframe.

Pressure Plateau Time: Represents the percentage of time the AutoAdjust spent at the upper pressure setting. A value of 10% or more indicates a possible need to raise the upper pressure setting to allow higher pressures.

High Leak Flow Time: Shows the percentage of time when a leak was above 95 liters per minute. A value of 10% or more indicates that the mask fit should be checked.

NRI: Non-Responding Event Index (NRI) represents the average number of non-responding events per hour. A non-responding event is a respiratory event that is detected but by design does not result in a pressure change during AutoAdjust therapy.

EPI: The Exhale Puff Index (EPI) is the number of exhale puff events detected per hour. Exhale puffing is caused by inhaling through the CPAP system and exhaling through the mouth.
PLM arousal index: The number of periodic limb movements that cause arousals multiplied by the number of hours of sleep.
Respiratory event-related arousals. Episodes that are not apneas or hypopneas, often related to loud snoring, that generally do not cause a decrease in oxygen saturation.
In addition to apneas and hypopneas, RDI may also include other respiratory disturbances such as snoring arousals, hypoventilation episodes, desaturation events, etc. They are often identical, but depending upon what is scored, the RDI may be higher than the AHI.
Spontaneous arousal index: The number of spontaneous arousals (e.g. arousals not related to respiratory events, limb movements, snoring, etc) multiplied by the number of hours of sleep.
Total arousal index: Total number of all arousals multiplied by the number of hours of sleep.

By Live Chat: Click on the Chat now field in the lower right hand corner of the CPAP.com page. If after hours, click Leave a message to enter your question and we will get back in touch with you.
By Phone: 800.356.5221 (8 AM - 8 PM CST Mon-Fri; 8 AM - 5 PM CST Sat)
Email Us: cpap@cpap.com
By Fax: 866.353.2727
Could not find what you were looking for? Please send us your question. Question Submission Form
CPAP Users Say
CPAPtalk.com CPAP User Discussions
Did You Know?, CPAP Software
Tracking your sleep metrics lets you monitor improvements, make changes, and may help your doctor provide you with better care.
CPAP Software allows you to track your sleep metrics, like hypopneas, AHIs and more.
Data cards fit into your machine to collect your sleep data. These cards can be taken out and read by a card reader that hooks up to your computer. Software is still necessary for data to be downloaded.
Download cables connect your machine to your computer so that you may download your sleep metrics to your computer for viewing. Software is needed retrieve this data.
CPAP Software Articles
Top CPAP Software
Top CPAP Software by User Review
Top CPAP Software by Sales
Top CPAP Software by User Review
Top CPAP Software by Sales