Home

/

3B Medical
Luna II CPAP Machine with Humidifier
BY 3B Medical
Item #LG2000
---
Prescription required
Free Shipping
Order ships today if placed by 4PM CST
Need replacement parts & accessories?
Shop Now
Luna II CPAP Machine
Overview
The Luna II CPAP Machine is set at one target therapy pressure and provides treatment for Sleep Apnea in a package that includes a built-in heated humidifier.
Prefer automatic pressure adjustments? Visit the Luna II Auto CPAP page for more information.
Enjoy the convenience of sharing therapy data with a physician over WiFi or Cellular, and get instant information about your night of sleep on your phone by using the convenient QR Code.
The Luna II CPAP machine is single-pressure therapy at its finest and is loaded with comfort features making it easier and more comfortable to fall asleep.
Reslex® pressure relief makes it easy to breathe out, while the 60-minute ramp time gives you extra time to fall asleep. Enjoy the convenience of getting therapy data on your phone through a mobile app and QR Code,with other features and extras.
In The Box:
CPAP Machine
Heated Humidifier Chamber
Power Supply
Power Cord
Hose
Filter
SD Data Card
Travel Case
User Manual
Product Features:
Instantly Share Therapy Data with Wifi or Cellular (if Desired)
Full Color LCD Display
Built-in Dual-Chamber Heated Humidifier
Access Therapy Data on a Mobile Device with a QR Code
Take Longer to Fall Asleep - 60 Minute Ramp Time
Expiratory Pressure Relief with Reslex®
Smart Features: Auto Start and Mask-Off Alert
Shares Data With Your Healthcare Provider Over Wi-Fi or Cellular, If Desired
For those wanting to share sleep data with their physician, the Luna 2 provides a number of ways you can do this. Communicating over WiFi or Cellular, the Luna II can talk to your physician. It also has a data card, making it possible to track sleep on a PC or give it to your sleep technologist. The Luna 2 offers so many ways to share data, and can be deactivated if desired.
User-Friendly Color LCD Display
The full-color LCD display makes it easier to navigate through the different screens and find exactly what you're looking for. It helps make it simple to interact with the features and options found in the menus, and the screen also helps to quickly get access to your health data.
Built-In Dual-Chamber Heated Humidifier
The dual-chamber heated humidifier makes it easy to fill and provides open access making cleaning a breeze. The humidifier is designed to help reduce dryout of sinuses and your throat by adding extra moisture to your therapy air, keeping your throat, nose, and mouth hydrated throughout the night.
QR Code Provides Easy Access to Your Data
Want CPAP therapy data on your mobile device? The Luna 2 CPAP Machine generates a QR code after therapy concludes, and by using an app, you can scan the QR code to get instant access to your therapy data. Be in the know when it comes to CPAP therapy, and take your therapy data on the go!
60-Minute Ramp Time
Some people naturally take longer to fall asleep and the Luna II CPAP Machine gets it. While most CPAP machines feature a 45-minute ramp time, the Luna 2 goes a step further and has a 60 minute ramp time. This provides an extra 15 minutes of lower pressure, allowing someone to fall asleep naturally.
Reslex® Expiratory Pressure Relief
Without pressure relief, you'd struggle to exhale against the force of the incoming air. The Luna 2 provides Reslex Expiratory Pressure Relief, helping anyone exhale naturally and without extra effort.
Auto Start and Mask Leak Alert
If desired, the Mask Leak Alert can be turned off, but it's helpful to know when leaks happen so they can be corrected, allowing therapy to continue. The auto start feature is designed to start the machine when breathing is detected.
View More

+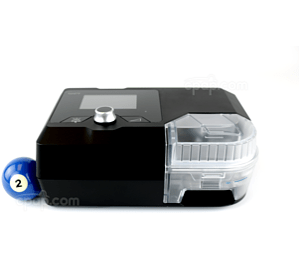 Luna II CPAP Machine with Humidifier
---