Take 15% off
your order of $200+ by subscribing!
Join Today!
Home

/

Generic
World Traveler Power Adapter Plugs
BY Generic
Item #intl-power-adapter-1
---
Item # intl-power-adapter-1
Not Currently In Stock
World Traveler Adapter Plugs are designed to adapt your standard AC plug into one that fits into foreign wall sockets. Adapters are for use with dual voltage electronics or other voltage converters that accept polarized plugs.
Compatible Countries by Plug Design
3-Prong Rectangular Blades: Africa, Great Britain, Ireland
Round Pins: Europe-East & West, Middle East, Parts of Africa, Asia and South America
Flat Angled Blades: Australia, New Zealand, Argentina, Mainland China, Fiji
Flat Parallel Blades: Caribbean, South America, Tahiti, Philippines, Japan, Mexico
Warning, adapters do not convert electricity. They only permit you to plug units into a different types of wall sockets found in different countries.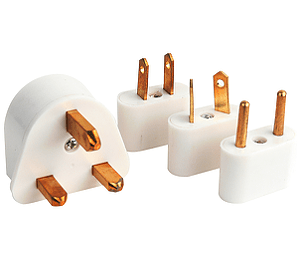 World Traveler Power Adapter Plugs
---