Save 10% on your next order
of $99 or more by joining our email list.
Join Today >
Home

/

Aims Power
400 Watt DC to AC Power Inverter
BY Aims Power
Item #PWRINV400W
---
Order ships today if placed by 4PM CST
400 Watt DC to AC Power Inverter by Aims Corporation, model number PWRINV 400W features a soft start function, overload protection, high grade thermal protection, and a low battery shutdown. With a modified Sinewave output form, output capacity is 400 watts with a surge power up to 1200 watts. At set of battery clamps cables are included as well as a cigarette lighter cable. The unit has two AC power outlets and an on/off switch.
This inverter has an internal fan that runs continuously to maintain the internal temperature of the inverter. The fan is not designed to turn on and off dependent on the temperature of the inverter.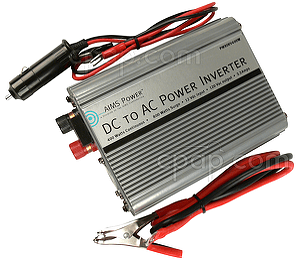 400 Watt DC to AC Power Inverter