Home

/

Battery Power Solutions
Connector Tip for Freedom Travel Battery Pack for CPAP Machines (1 Pack)
BY Battery Power Solutions
Item #FREEDOM BPS N.TIP.FD
---
Order ships today if placed by 4PM CST
Connector Tip for Freedom Battery Pack
Overview
The BPS Connector Tip for the Freedom Travel Battery Pack for CPAP Machines (1 Pack) attaches to the DC pigtail cord which connects to the device, allowing the CPAP to draw power from the battery. Please Note: This purchase includes one connector tip only.
There are a variety of individual connector tips because they vary in size in order to pair directly with specific machines.
Connector Tip J pairs with the PB Goodnight 420 Series of Machines and DeVilbiss IntelliPAP Machines
Connector Tip N pairs with the PR System One 50 Series Machines and Respironics M Series Machines
Connector Tip W pairs with the PR System One 60 Series Machines
Looking for the individual connector tips for the C-100 Travel Battery Pack? View the compatible connector tips, here.
For more information, visit the Freedom Travel Battery Pack page.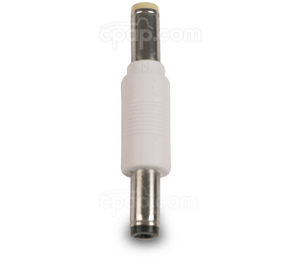 Connector Tip for Freedom Travel Battery...
---