Home

/

DeVilbiss
IntelliPAP Firmware Upgrade Cable with USB-to-Serial PC Adapter
BY DeVilbiss
Item #SBT-USC1M-DV51D-615
---
Order ships today if placed by 4PM CST
IntelliPAP USB to Serial Adapter Cable
Overview
This package comes with both the Serial adapter and
IntelliPAP CPAP to PC Firmware Upgrade Serial Cable
. IntelliPAP users must have a serial port available for the firmware upgrade to work. The DeVilbiss firmware and software only supports a serial connection and USB-to-USB or other connections will not work.
The USB male to Serial male (9-pin) DB-9 RS-232 adapter and Firmware Serial Cable allow users to update their IntelliPAP Standard or AutoAdjust CPAP machines without the need of a built in Serial Port.
This adapter connects to any USB port supported by Microsoft Windows. The adapter simulates a Serial Port connection and allows newer PC-compatible computers without a Serial Port to connect to 9-Pin serial cables.
Firmware can be downloaded here:
DV5x Series Firmware Updates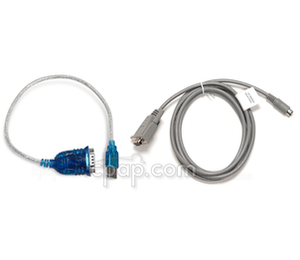 IntelliPAP Firmware Upgrade Cable with U...
---