Home

/

DeVilbiss
IntelliPAP 2 Standard Heated Humidifier
---
Prescription required
Free Shipping
Order ships today if placed by 4PM CST
Need replacement parts & accessories?
Shop Now
Product
Overview
The IntelliPAP 2 Standard Heated Humidifier from DeVilbiss is an OPTIONAL humidification device for IntelliPAP 2 machines. Uniquely compact, the machine is designed to sit on top of the humidifier cradle. Choose between 5 levels of humidification for optimal results.
The DeVilbiss IntelliPAP 2 Standard Heated Humidifier is a space-saving unit comprised of a humidifier cradle and water tank. When used with IntelliPAP 2 machines, the humidifier is intended to release warm therapy air. With 5 levels of humidity, the desired amount of moist air can be tailored to each individual.
Features
Different Levels of Humidity
Compact Design Aesthetic
Different Levels of Humidity
This standard heated humidifier is designed to offer a range of humidification options. Level 1 is the lowest dose of humidity, while Level 5 is the highest. The wave symbol located on top of the IntelliPAP 2 machine lights up to represent the functioning humidifier. If humidification is not desired, the option may be turned OFF.
Compact Design Aesthetic
The IntelliPAP 2 machines and heated humidifier are designed to join together to create a minimal footprint. Stack the cream colored machine on top of the humidifier cradle. Then, place the water chamber within the cradle to ensure the device is ready for use. This design makes the combination of the machine and humidifier taller as opposed to longer. The pieces may be separated for ease when cleaning or traveling.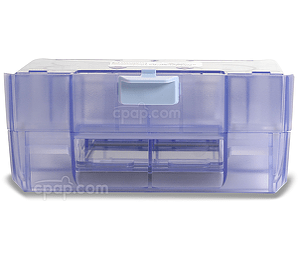 IntelliPAP 2 Standard Heated Humidifier