Take 15% off
your order of $200+ by subscribing!
Join Today!
Home

/

Nasal

/

Fisher & Paykel
FlexiFit HC405 Nasal CPAP Mask with Headgear
BY Fisher & Paykel
Item #HC405a
---
Prescription required
Free Returns
Order ships today if placed by 4PM CST
Need replacement parts & accessories?
Shop Now
FlexiFit HC405 Nasal Mask
Overview
The HC405 mask is the upgrade to the Aclaim 2. It features the same "Fit and Forget" technology that combines a unique foam cushion shape and headgear design for a comfortable, stable fit. The major difference between the Aclaim 2 and the HC405 is the hose connection which now swivels instead of being fixed upward and over the head.
Out of Box Solution. All Fisher & Paykel masks come fully assembled and ready to wear so there is no fumbling or confusion.

FlexiFit Cushion. The unique inner foam cushion provides a secure seal. The mask includes a small and large seal and one foam cushion.

Glider Strap Anti-Leak System. This strap is used to connect the headgear to the mask frame for stability, but it slides across the frame when the head is turned so that the pressure of the seal stays uniform regardless of sleep position.

Front Swivel Hose Connection. The HC405 has a swivel hose connection instead of the fixed one of the Aclaim 2 so that the hose may be positioned in any direction for ease of movement during sleep.

Bias Diffuser. The HC405 exhalation vent has be redesigned and placed on the elbow of the swivel to help keep it from blowing onto a bedmate. It also uses a filter to help reduce noise.

Four Strap Headgear. The top headgear strap has been removed for a simpler, more open design. The headgear of the HC405 is latex free, as are all other headgear by Fisher & Paykel.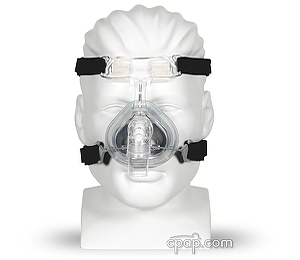 FlexiFit HC405 Nasal CPAP Mask with Head...
---