Home

/

Generic
SD Memory Card Reader for IntelliPAP, PR System One, Curasa, S9, AirSense 10, and AirCurve 10 CPAP Machines
BY Generic
Item #SDreader1
---
Order ships today if placed by 4PM CST
IntelliPAP/PR One/S9 SD Card Reader
Overview
The SD Memory Card Reader allows you to upload therapy data from any SD memory card. Connect the Card Reader to any USB port on a computer to access therapy data instantaneously and start tracking your progress.
This is a USB to SD memory card reader that will work with the following CPAP machines:
PR System One
Curasa
IntelliPAP
ResMed S9
AirSense 10
AirCurve 10
Please Note: The style and shape of the card reader varies but the function of the reader is unaffected.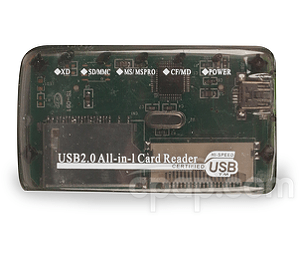 SD Memory Card Reader for IntelliPAP, PR...
---