Take 15% off
your order of $200+ by subscribing!
Join Today!
Home

/

Hans Rudolph
Quest Full Face CPAP Mask with Headgear
BY Hans Rudolph
Item #113717
---
Prescription required
Free Shipping
Free Returns
Order ships today if placed by 4PM CST
Need replacement parts & accessories?
Shop Now
Quest Full Face Mask
Overview
The Quest Full Face CPAP Mask with Headgear from Hans Rudolph is designed to provide comfort. The combination of soft silicone and the elimination of a forehead support closely resemble the qualities of the Hans Rudolph 7600 V2 mask.
The Quest Full Face Mask by Hans Rudolph uses flexible material to create a seal without use of a forehead support. The unique design includes a built-in chin cup to support the mask position during movement. This is a full face mask and seals around both the nose and mouth.
Features
No Forehead Support
Contoured Design
Five Sizes Available
360 Degree Swivel Elbow
Micro Vents
Quick-Release Headgear Clips
Easily Adjusted Headgear
Headgear Sized to Mask
No Forehead Support
By eliminating the forehead support this full face mask offers an open line of sight with a lighter overall weight. Whether watching TV or reading before bed, the open view helps the user enjoy bedtime rituals without interference. The lack of forehead support adds to the open feeling of the mask.
Contoured Design
To enhance the seal of the mask, the contoured shape was developed to mimic facial structures. The ribbed design of the cushion is intended to allow movement during sleep without disrupting the seal. In addition, a unique built-in chin cup adds support to the mask seal. The seal of the Quest Full Face Mask follows the bridge of the nose to the bottom of the chin.
Five Sizes Available
The Quest is available in five sizes to fit a wide range of users. Size options include:
Petite
Extra-Small
Small
Medium
Large
Select the desired size at the time of purchase.
360 Degree Swivel Elbow with Micro Vents
The 360 degree swivel elbow port compliment movement during sleep. The micro vents located on the swivel elbow release exhaled air. If needed, supplemental oxygen can be added using the oxygen port positioned on the elbow.
Quick-Release Headgear Clips
Assembly and dis-assembly of the four point headgear is easy. Quick release clips connect to the mask near the nose and mouth. The Velcro straps can be adjusted by lifting the black tab to increase or decrease tension.
Headgear Sized to Mask
The headgear included with the mask at the time of purchase is based on the size of the mask selected.
The small headgear is packaged with the petite and extra-small masks.
The medium headgear is packaged with the small and medium masks.
The large headgear is packaged with the large mask.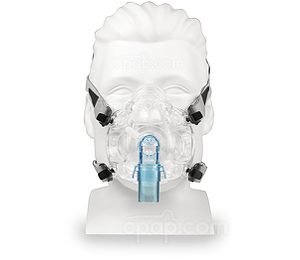 Quest Full Face CPAP Mask with Headgear
---