Home

/

Nasal

/

Philips Respironics
Wisp Nasal CPAP Mask WITHOUT Headgear
BY Philips Respironics
Item #1094055
---
Order ships today if placed by 4PM CST
Need replacement parts & accessories?
Shop Now
Wisp Nasal CPAP Mask No Headgear
Overview
The Wisp Nasal Mask WITHOUT Headgear offers a choice of frame. When ordering select Clear Silicone Frame or Fabric Frame. This package includes three sizes of cushions: S / M, L, and XL. The innovative design means less facial contact and no need for a forehead support.
The Wisp Nasal CPAP Mask WITHOUT Headgear offers a choice in headgear materials. The design of the Wisp is lightweight with minimal facial contact helping to promote therapy comfort.
Features:
Fabric or Clear Silicone Frame
3 Cushion Sizes Included
Lightweight, Flexible Short Tube Included
Clips for Headgear Included
Frame Options
The frame for the Wisp is offered in Clear Silicone or Fabric. Select the frame type at the time of ordering. The silicone frame is flexible with smooth surfaces. The fabric covered frame has different material on each side offering a choice in feel.
The Wisp frames are interchangeable. The Wisp cushions work with both the silicone and the fabric frames.
Cushion - 3 Sizes
The Wisp Nasal Mask WITHOUT Headgear comes packaged with three sizes of cushion. The Small/Medium cushion is installed on the mask frame and can easily be changed to the Large or Extra Large cushion. Also available as a separate purchase is a Petite cushion.
No Forehead Support
The Wisp omits the need for a forehead support offering a clear line of site and more comfortable therapy. It allows for watching TV or reading before falling off to sleep.
Short Tube
The Wisp Nasal Mask WITHOUT Headgear includes the flexible short tube which is the connection between the long hose and the cushion. The swivel allows for movement while limiting seal disruption. The short tube can pass over the top of the head keeping the hose out of the way.
Standard Clips Connect Headgear to Frame
The Wisp Mask WITHOUT Headgear uses standard plastic clips to connect the headgear to the frame, and doesn't come with the magnetic clips found on the Wisp Nasal Mask - Fit Pack.
Headgear Sizing
NOTE: This product does not include the headgear.
The size Original Headgear is packaged with the Wisp. It is part number 1094082. The headgear for the Wisp is also available size Large for separate purchase.
Consider purchasing the size Large Headgear if you meet either of these circumstances:
Neck measurement or men's dress shirt collar is 17 inches or larger
Hat size is 7.25 or larger
Click this link: Headgear for Wisp Nasal Mask to view and purchase the headgear.
If interested in the Wisp packaged with the size Original headgear - click this link: Wisp Nasal CPAP Mask with Headgear - Fit Pack.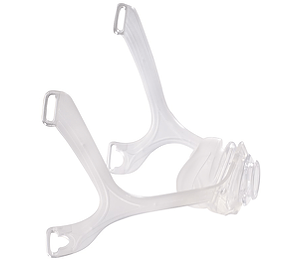 Wisp Nasal CPAP Mask WITHOUT Headgear
---