Save 20% today
and gain access to all future offers!
Sign Up & Save >
Home

/

Pur-Sleep
PurSleep CPAP Aromatherapy Diffusion Wafers - 10 pack
BY Pur-Sleep
Item #PS-Diffuser-Pads
---
Order ships today if placed by 4PM CST
The Pur-Sleep Diffusion Wafer has been specifically designed and produced to deliver the diffusion of essential oils effectively to the CPAP air intake.
The Diffusion Wafers are reusable. Dedicated a single pad for each type of oil. Scented pads may be stored in small, zip-lock bags to preserve the scent.
Although it is not necessary to wash the pads, they can be hand washed and air dried. Continue to use a diffuser pad until it no longer holds the oils.
Please Note: avoid contact with finished surfaces.
This Product Includes:
10 Wafers
Diffusion Tray (Cardstock)
5 Zip-lock Bags (Approximately 1 1/2" x 2")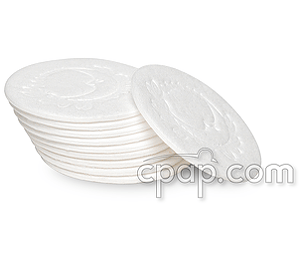 PurSleep CPAP Aromatherapy Diffusion Waf...