Home

/

ResMed
AirFit™ P10 Nasal Pillow CPAP Mask Assembly Kit
---
Order ships today if placed by 4PM CST
Need replacement parts & accessories?
Shop Now
AirFit P10 Nasal CPAP Mask Assembly Kit
Overview
The AirFit™ P10 Nasal Pillow CPAP Mask Assembly Kit is the Mask Assembly Kit for the ResMed AirFit™ P10. This is the mask only with a single pair of nasal pillows. This does not include the headgear for the AirFit P10 mask.
The nasal pillows for the AirFit™ P10 have a color coded rim by size. Select the desired size nasal pillow at the time of ordering:
Extra Small (Pink)
Small (Clear)
Medium (Gray)
Large (Blue)
Features of the AirFit P10 Nasal Pillow Mask:
Quiet & Lightweight
Easy to Use Design
Included Short Tube
Flexible Nasal Pillows
Quiet & Lightweight
The QuietAir™ uses woven-mesh vents to quietly direct and diffuse exhaled air away from the user and bed partner. The entire mask weighs approximately 1.6 oz. when assembled.
Easy to Use Design
The AirFit™ P10 is made up of only three parts: vent frame, headgear (not included with this product), and nasal pillow. The pillow is easily removed and re-assemble using the top and bottom clips on the pillow rim.
Flexible Short Tube Included
Attached to the frame is a highly flexible short tube. It allows for movement during sleep while limiting disturbance to the seal. The short tube cannot be detached from the frame.
Flexible Nasal Pillows
The dual-wall nasal pillows are available in four sizes: XS; S; M; L. The pillows are designed to adapt to movement, the stems of the nasal pillow compress to allow for a comfortable seal that is maintained during position changes. The pillows feature a lettered size indicator as well as an "L" and "R" to help properly orient the pillows.
Interested it the AirFit™ P10 Headgear? Go to this page: Headgear for AirFit™ P10 Nasal Pillow CPAP Mask
OPTIONAL: Strap Pads for the AirFit P10
If your mask headgear irritates your face, strap pads can help! These comfortable fabric wraps add an extra layer of softness between your face and the headgear, helping reduce irritation and maybe reduce red marks.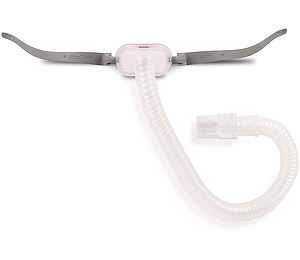 AirFit™ P10 Nasal Pillow CPAP Mask Assem...
---