Take 15% off
your order of $200+ by subscribing!
Join Today!
Home

/

Generic
ResMed AirMini Disposable Fine Filters (6 Pack)
---
Order ships today if placed by 4PM CST
Need replacement parts & accessories?
Shop Now
Generic Disposable Filters for AirMini
Overview
Disposable filters are used to remove dust, pollen, dander, and other irritants from the ambient air as it enters your CPAP machine. When you inhale, you'll breathe in air that's free of most pollutants. Fine filters for the AirMini are good for six months and should be replaced after that time, or sooner if it begins to look discolored.
Stock Up Now! Don't Run Out!
Replacing the filter on your machine keeps it in top shape, while cutting down on excess noise. Stock up now, so you won't miss out on a quality night's sleep later!
6-Pack Keeps You Going for 3 Years
Each filter has a lifespan of roughly 6 months, and the 6-pack featured here will keep you stocked up for almost 3 years.
Only Works With the AirMini
This 6 pack of filters will only work with the ResMed AirMini AutoSet Travel CPAP Machine and they are not compatible with any other machine or device.
Replacing Your Filter Isn't Just Healthier—It Can Also Reduce Noise
Replacing your filter is not only good for your health; it can also serve to quiet a noisy machine. If your AirMini seems louder than usual, check your filter. If the filter is discolored, it's a sign a filter change may be needed. This could be the solution to the excess noise you have been experiencing.
Traps Dust, Pollen, Dander, and Other Irritants
If you didn't have a filter on your machine a lot of the pollutants and irritants from the ambient air would wind up in your lungs, and that's bad for your long-term health. Your CPAP filter is essential for keeping the air you breathe as harmless as possible, and following a regular replacement schedule is critical for keeping you healthier longer.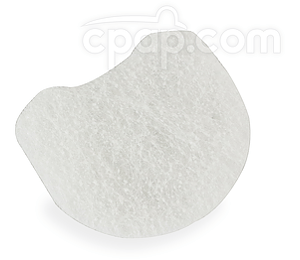 ResMed AirMini Disposable Fine Filters (...
---