Home

/

ResMed
Ports Cap for the Quattro™ FX, Mirage Activa™, Mirage Activa™ LT, Mirage™ SoftGel, Mirage Micro™, Mirage Kidsta™, Mirage Vista™, Ultra Mirage™ Nasal, Ultra Mirage™ II Nasal and Mirage Liberty™ (
---
Order ships today if placed by 4PM CST
Ports Cap for Most ResMed Masks
Overview
The Ports Cap for the Quattro™ FX, Mirage Activa™, Mirage Activa™ LT, Mirage™ SoftGel, Mirage Micro™, Mirage Kidsta™, Mirage Vista™, Ultra Mirage™ Nasal, Ultra Mirage™ II Nasal and Mirage Liberty™ (2Pk) is the replacement cap used to seal the oxygen tubing ports on most ResMed masks.
The ports allow oxygen tubing to be attached when supplemental oxygen is added to the CPAP airflow. The cap should remain in place at all other times.
This product is used with the following masks:
Mirage Micro
Mirage Kidsta
Mirage Vista
Mirage SoftGel
Mirage Activa
Mirage Activa LT
Mirage SoftGel
Ultra Mirage Nasal Mask
Ultra Mirage II Nasal Mask
Mirage Liberty Full Face Mask
Quattro FX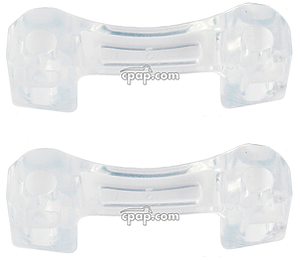 Ports Cap for the Quattro™ FX, Mirage Ac...
---