Take 15% off
your order of $200+ by subscribing!
Join Today!
Home

/

ResMed
HumidAire 2i™ Heated Humidifier
---
Prescription required
Free Shipping
Order ships today if placed by 4PM CST
Need replacement parts & accessories?
Shop Now
Product
Overview
The HumidAire 2i Heated Humidifier by ResMed is an integrated humidifier for use with the S7 line of machines. The humidifier is simple to attach and features a easy to use dial to adjust the humidity level.
This heated humidifier snaps easily on and off the ResMed S7 Series CPAP machines. The integrated humidifier is powered by the CPAP and has no extra cords to plug in. The heater provides warm moist air that soothes your sinuses and nasal dryness. Check out our Humidifier FAQ to get the details on how heated humidification can improve your sleep therapy.
The HumidAire 2i is compatible with the following machines:
AutoSet CS 2
S7 AutoSet Spirit
S7 Lightweight
S7 Elite
VPAP III Series
VPAP III ST-A with QuickNav
VPAP Adapt SV
VPAP Malibu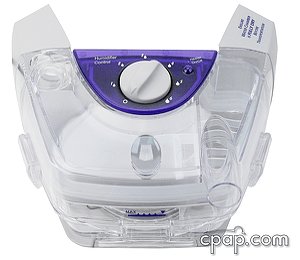 HumidAire 2i™ Heated Humidifier
---