A "built in" humidifier is designed as a part of the CPAP machine and cannot be removed or separated from the CPAP machine. As with an integrated humidifier, the design eliminates the need for a second hose or power cord. The water chamber can be removed for cleaning or replacement purposes.
The advantage of a "built-in" humidifier is its compact shape, which operates on fewer parts. This integrated design helps to ensure optimum moisturized comfort and effectiveness when CPAP therapy and humidification are used together. Also, it allows an option for the humidification to be turned off while the CPAP is blowing.
A disadvantage is that a built in humidifier may produce less moisture if used as passover because the surface area is typically smaller. Also, since the humidifier is "built in" to the machine, detaching it is not an option. This can be an issue for frequent travelers. Lastly, if the machine or humidifier stops working, the entire unit must be sent in for repair or replacement, not just the component that failed.
An example of a machine with a built in humidifier is the
ICON Auto CPAP Machine with Built In Heated Humidifier and SensAwake
as seen below.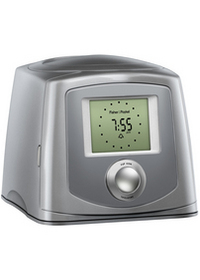 Here are some other machines we carry with built-in humidifiers:
AirSense™ 10 CPAP Machine with HumidAir™ Heated Humidifier
AirSense™ 10 AutoSet CPAP Machine with HumidAir™ Heated Humidifier
iCH Auto CPAP Machine with PVA and Built-In Heated Humidifier
+ See More