Home

/

Adaptive Sound Technologies, Inc.
Sound+Sleep High Fidelity Sound Machine
BY Adaptive Sound Technologies, Inc.
Item #ASM1002 SOUND+SLEEP
---
Order ships today if placed by 4PM CST
Product
Overview
Sometimes you need a little calming background noise like the sound of the ocean, fireplace, rainfall, or even the sound of a city in order to fall asleep. There's often no easy way to get a pleasing sound at night while having full control over how complex it is. An app on your phone may play a pleasing sound one minute and then switch to something you don't like the next.
That's where the Adaptive Sound Sleep Therapy System by Sound + Sleep can help. It generates one of 10 different sounds and gives you full control over how "busy" the noise is. You can choose from train, city, rainfall, brook, meditation, ocean, fireplace, waterfall, meadow, or white noise— while also controlling the complexity of each. This gives you custom-tailored background noise, helping create the perfect sounds to help you fall asleep.
The Adaptive Sound Sleep Therapy System by Sound + Sleep is a next-generation device designed to make falling asleep easier, allowing you to adapt to new surroundings or be more comfortable in your own home.
Features & Benefits
Choose from 10 Different Base Sounds
Customize Each Base Noise to Your Preferences
Volume Can Automatically Adjust to Compensate for Other Noises
Easily Set a Timer Up to 120 Minutes
Great for Adapting to a New Environment
Helps Reduce Annoyances from Noise Playlists
Choose from 10 Different Base Sounds and Customize to Your Preferences
There are 10 different base noises available, and then you're able to make each of these sounds more or less complex, depending on your personal preferences. You can choose from:
Ocean
City
Rainfall
Brook
Meditation
White Noise
Waterfall
Fireplace
Meadow
Train
So if you decided on the ocean as your base sound, you could use the "richness" controls on the device to increase or decrease the presence of other sounds. By increasing richness, you could add in the sound of a sea lion or fog horn off in the distance. By decreasing richness, you'd eliminate the extra noises and only hear the sound of the waves.
Automatically Increases Volume and Richness Depending on Ambient Noise
When enabled, the Adaptive Sound Sleep Therapy System can automatically increase volume or increase richness if other noise, such as snoring, is detected in the room. This can help drown out unpleasant sounds and help you stay asleep. This feature is optional, and can be disabled if desired.
Easily Set a Timer for Up to 120 Minutes
Only need the sound machine while falling asleep? No problem! Just set a timer for 30, 60, 90 or 120 minutes and the Sound Machine will power off after you've fallen asleep.
Great for Adapting to a New Environment
If you're traveling or in an unfamiliar environment, you may miss the sounds of home. For example, if you're used to the noises of a large city as you settle into sleep, you may have difficulty sleeping if you visit the country. The Sound + Sleep Sound Machine can help you adapt by recreating the noises you may be familiar with from home, even when miles away.
Similarly, if you just moved to a noisy city and can't sleep, the sound machine can help drown out the busy streets!
Fewer Annoyances than Traditional Noise Playlists
Noise playlists often times are created by many different artists and musicians and no two tracks are the same. Some will be just right, while others may be too noisy. The Sound Machine plays the right amount of noise, that's not too busy or too simple, completely customizable to your own personal taste. This can often be more effective, with fewer annoyances, than noise playlists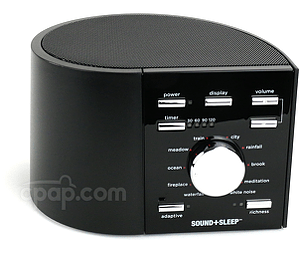 Sound+Sleep High Fidelity Sound Machine
---