Somnetics Filter for Transcend Travel Machines
Top Review
"These are the exact filter to fit in my CPAP machine. Good quality materials."

VERIFIED CPAP.COM CUSTOMER
March 23, 2016
Product Overview
Manufactured by Somnetics.
Product Features
The Filter for Transcend Travel Machines is the replacement foam filter for use with Transcend Auto miniCPAP and the Transcend miniCPAP machines. The filter fits inside the Filter Frame for Transcend Travel Machines. It is not compatible with the Transcend 3. For the filter for that machine, please see: Transcend 3 Filter Assembly.
Compatibility
This product works with Transcend machines designed to use the Filter Frame removed by pushing a button. It is not compatible with machines designed with a latch on the bottom of the filter frame.
Filter Care
The manufacturer recommends that the Transcend Filter be washed weekly using a 5% mild liquid detergent and distilled water. Allow the filter to air dry before reinstalling. An example of a mild detergent is Tide Free & Gentle. Please replace your filter once every 6 months.
NOTE:
This is the filter for use with Transcend machines. The colored plastic frame is NOT included with this purchase.
Image of compatible Transcend machine by Somnetics: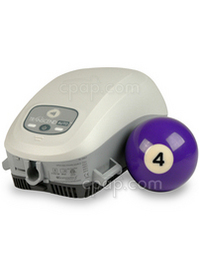 Return On Warranty Issues Only

Specifications
This Product Includes...
Product Specifications
Filter Materials: The foam is open cell foam. The material in the middle of the filter is coated recycled paperboard.
CPAP.com always offers these services:
8 am to 8 pm CST Toll Free Phone and Email Support
24 hour access to our CPAPtalk.com Support Forum
Learning Center for information on sleep apnea and cpap equipment
Consumer Purchasing Trends Reports
Warranty Services for all items purchased through CPAP.com
Insurance Compliant Invoices
Free Prescription Request System
Important Tips
Filter Installation: The Filter for Transcend machines fits the filter frame in only one orientation due to the shape and curve of the filter and the frame and machine base design.
Remove the filter frame from the bottom of the Transcend machine.
With the machine base facing up, lay the foam side of the filter on the machine base. The curve of the filter will match the curve of the machine base.
Line up the notch on the filter with the tab on the machine base.
The firm backing of the filter will be against the filter frame and the foam portion of the filter will face the machine body.
When properly installed the filter lays flat against the machine base.
Line up the filter frame on the machine and snap back in place.
Customer Reviews
View All Reviews