Take 15% off
your order of $200+ by subscribing!
Join Today!
Home

/

PMI Probasics
Zzz-Mask Full Face CPAP Mask with Headgear
BY PMI Probasics
Item #7800S
---
Prescription required
Free Returns
Order ships today if placed by 4PM CST
Need replacement parts & accessories?
Shop Now
Zzz-Mask Full Face Mask
Overview
The original Zzz-Mask Full Face CPAP Mask with Headgear from PMI Probasics with detachable cushion is available.
The design is flexible, lightweight, and very easy to clean. The soft medical grade silicone mask allows for a comfortable fit and excellent seal without the need of a forehead support. Best of all they did not sacrifice comfort for durability.
The
Zzz-Mask Full Face CPAP Mask with Headgear
offers theses valuable features which make this mask an excellent choice.
Detachable Cushion Refresh the mask by replacing the cushion and frame. The cushion detaches from the mask frame by coming off the two frame pegs or prongs.
Lightweight Flexible Design Made from a soft medical grade silicone, the Zzz-Mask Full Face Mask has a design that is comfortable, durable, and flexible.

No Forehead SupportEnjoy a clear line of sight without a forehead support in the way. The design of the mask and headgear offers a stable seal without the bulk of a forehead support.

Headgear with Quick Release Clips The headgear can be easily removed without having to re-adjust the straps making it quick and convenient to take on and off.

Easy To Clean Due to its overall design this mask is amazingly easy to clean.

360° Double Swivel Elbow Port Freedom of movement and ease of connection is built into the design of the Zzz-Mask Elbow Port. Where the mask and the elbow port connect is highly flexible as well, helping to keep the mask in place if you are an active sleeper.

Ergonomic Contoured Design This mask contours naturally to the face with its ribbed support for comfort, fit, and seal enhancement.

Durable The overall design of this mask and materials used make it extremely durable and long-lasting.

One Way Valve Design The air vent holes and one way valve design of the exhalation port help to minimize CO2 retention.
The Zzz-Mask Full Face Mask with Headgear comes in three sizes; Small, Medium, and Large.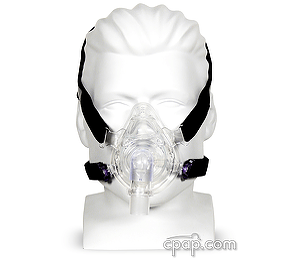 Zzz-Mask Full Face CPAP Mask with Headge...
---