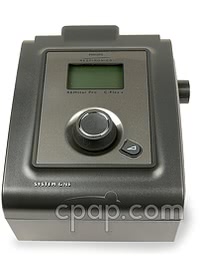 One Pressure CPAP Machine Overview
CPAP Machines blow air at your physician prescribed pressure no matter how open or closed your airway is. This is the most popular type of machine available as it the standard for traditional medical providers. Higher end units support therapy tracking software, off grid power options and heated humidification.
Shop Now
CPAP Machines FAQs
CPAP Machines Video
More Videos
CPAP Users Say
CPAPtalk.com CPAP User Discussions
Did You Know?, CPAP Machines
CPAP stands for "Continuous Positive Airway Pressure".
CPAP.com does repairs on machines purchased from us! And loaner equipment is available in the interim for a fee.
CPAP Machines Articles
CPAPtalk.com Wiki Articles
Research Articles
Top CPAP Machines
Top CPAP Machines by User Review
Top CPAP Machines by Sales
Top CPAP Machines by User Review
Top CPAP Machines by Sales